CH. Ajan's Easy To Love
Sire: BIS, BISS Am. CH. Tempo's Easy Rider BISS, SDHF
Dam: Am CH Ajan's Love At First Sight
Whelped: 8/30/2005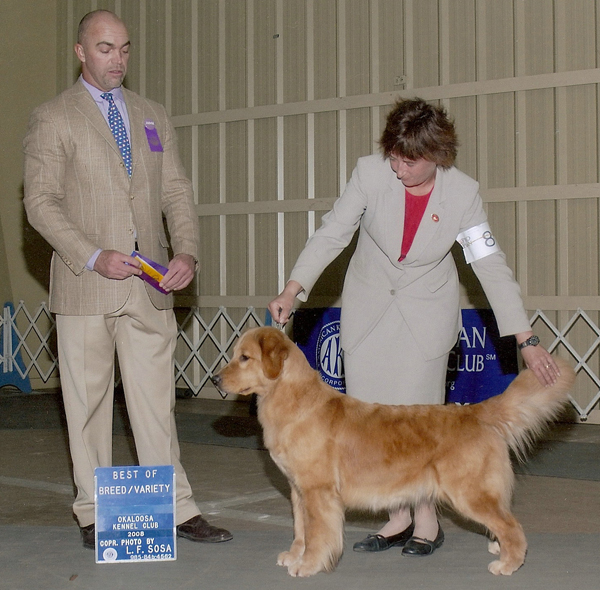 Treasure winning BOB from the classes, under Donald Sturz
Treasure went on to win a Group 2 that day!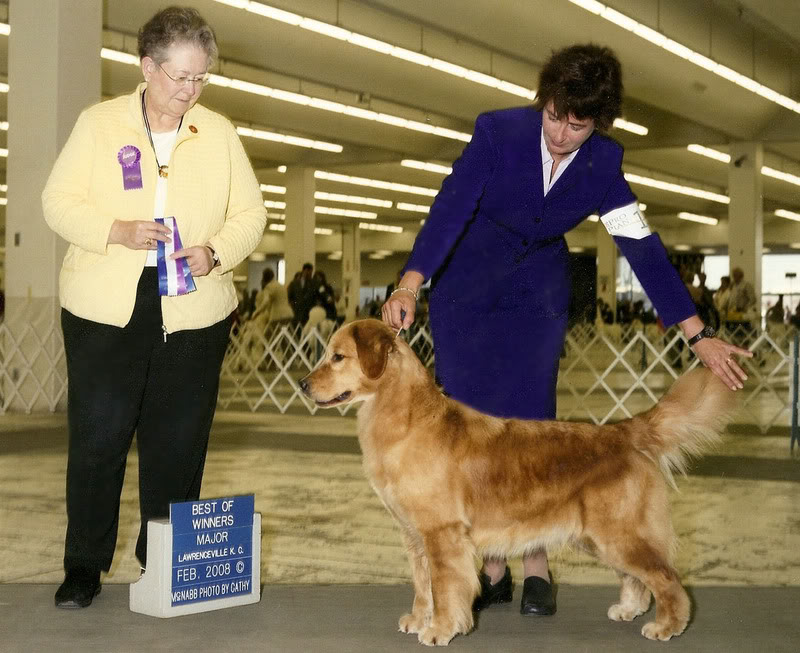 Second major win under Virginia Lyne
Treasure is what many breeders and judges have referred to as
"an honest bitch",
and they have said that they appreciate what she has to offer the breed today.   She possesses a classic look, with a dense and plush coat that is redder in color.  Treasure carries good undercoat at all times and a water repellent top coat that forms a tight jacket around her muscular body.  Even when out of coat Treasure carries good light colored furnishings on her tail, pants and legs.
Treasure has good pigment year round, dark eyes and a pleasing head with a pretty expression,  correct ear set, and full dentition.
She is clean coming and going and her tail is carried level or slightly higher than her strong level top line.  Treasure's foot timing is poetry in motion and she absolutely LOVES the show ring.  She is very high energy, but thankfully has a working "off" switch and her favorite place when not in the show ring is the middle of our bed.  Treasure's "electric" personality and high drive was what led us to choose "Kilowatt" for our kennel name.
Click here to see pictures of Treasure's first litter.  To see more photos of Treasure click here.
Pedigree

Parents

GrandParents

GreatGrandParents

SIRE

BIS, BISS, Am. CH. Tempo's Easy Rider BISS, SDHF

 Tempo's Rockhill-A-Bye Baby CD, JH

BISS CH. Goldstorm Moving Force BISS OS
CH. Tempo's Rockhill-A-Hula Baby
Creeksidefrm's Moonglowattempo OD
Multi. BIS BISS Am. Can. CH. Tempo's Little St. Nick SDHF JAM1998USNational
Can CH. Creeksidefrm's Center Court

DAM

Am. CH. Ajan's Love At First Sight

Am. CH. Goodtime's Ajan Yelobrick Rd CD
Am. CH. Faera's Future Classic Can. SDHF OS
Am. CH. Goodtime's Best Foot Forward OD
Am CH. Creeksidefrm Dancing In Style
Multi. BIS BISS Am. Can. CH. Tempo's Little St. Nick SDHF JAM1998USNational
Can. CH. Sunstone Elegance At Creekside